This is a super healthy, vegetarian take on the loved sausage roll.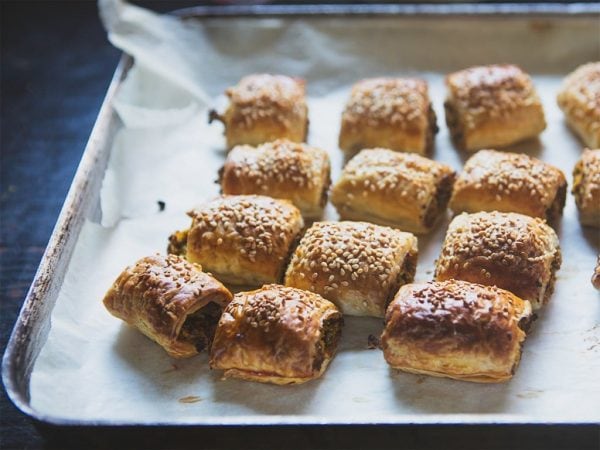 What You Need:
2 cups of grated pumpkin
2 small onions finely diced
2 tins of brown lentils (drained)
1/2 cups of sunflower seeds
3/4 breadcrumbs
2 teaspoons of cumin
2 teaspoons of tumeric
big pinch of salt
packet of puff pasty
1 egg, lightly beaten
sesame seeds, or poppy seeds, to spinkle on top
Instructions:
Preheat oven to 220˚C.
Make sure you have your puff pastry out of the freezer, so it is defrosted enough to roll.
Whizz the pumpkin, onion, seeds, breadcrumbs and spices up in a food processor.
Pop in to a bowl and mix through the lentils and season with salt.
Once it is all mixed and looking like a filling for yummy rolls, grab your puff pastry.
If you're using the square sheets of puff pasty, cut that in half and get two long rolls from a sheet.
Brush the pastry with the egg, this helps it stick together.
Put your lentil mix on your puff pastry, along the long length and roll the pastry over the mix until it looks like a long tube.
Brush the long pastry tube with more egg wash and sprinkle with sesame seeds.
Put the long roll on a baking tray, lined with baking paper, and cut up in to little bite size pieces.
Continue this process until you've filled your tray.
Pop in the oven for 25 minutes.
Pull out the oven and enjoy!