Urinary pH Testing is to Measure the Acid/Alkaline Balance of Fluids
Why is urinary pH important?
Subtle changes to the pH of the body can have substantial impacts on a range of health conditions, including stress, bone density, pain, muscle mass and hormonal balance. Urinary pH is a good measure of the 'acid-load' within the body, and many Practitioners use urinary pH to tailor their treatment plans. Urinary pH ranges from 4.5 to 8.0 in extreme cases, and from 5.5 to 6.5 in the average patient.
Potassium citrate at a dose of 4 g daily has been shown to reduce acidity
The clinic has a number of products which are used to reduce urinary pH and the best product will be used for your individual situation
Indicans Test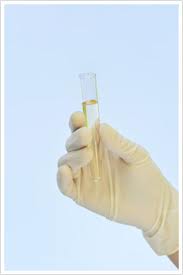 This is a great tool we use for those people we suspect have toxicity in their digestive system. We test the urine to identify levels of intestinal dysbiosis (or bad bacteria in the gut). According to the 'cloudiness' of the urine during the testing, this gives us an idea of the levels of gut and bowel toxicity the person is presenting with, and what kind of detox may be appropriate for them in order to clear out unwanted waste products and kick-start their digestive systems. What people love about this is that they can see how their toxicity in changing throughout their detox, because we re-do urine testing afterwards. People are amazed at how in the beginning the results were dark and cloudy and after detoxing suddenly were clear and transparent!
Heavy Metals Test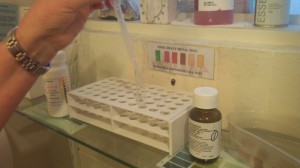 Many people do not think of heavy metals when they are finding answers to their health concerns. In fact, may patients who have been tested and were found to have toxic chemicals in their systems, have not been aware of this until testing, nor have they any idea of when and/or where they were exposed to it.
Heavy metals that are toxic to our bodies such as Aluminium, Arsenic, Cadmium, Copper, Lead, Mercury and Nickel can have an antagonistic effect on essential vitamins and minerals found in our foods and over time, can have a negative impact on our health. For example, aluminium is commonly found in antiperspirants and can reduce zinc, vitamin C, magnesium and calcium levels in the body, thus causing mineral loss from our bones as well as skin problems and gastrointestinal dysfunction.
Heavy metals and some toxic substances that have not been used for years can still take a very long time to break down, if ever, and may be present in your local or work environments. Often, clients are amazed at what shows up and they are relieved to be able to get help in testing for and clearing these substances.