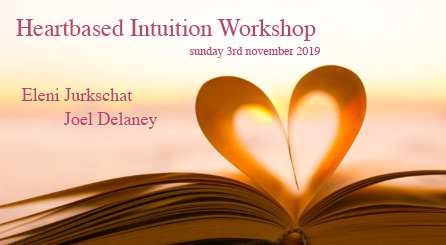 Have you been looking for a change but are unsure how to achieve this? Do you know there is something you're not quite getting but are unsure what to do about it?
Tapping into your own heart centred intuition allows you to get clarification on what best serves you.  It allows you to step out of your mind and reconnect with your body to get clear tangible direction on how to create the life you want.
This workshop is designed to give you an understanding of how to achieve this.  What steps you can take to best maximise something we all have.  To help you reconnect to your own sense of knowing. As part of this process we will support you to clear old blockages that have been limiting the effortlessness of this connection.  You'll get tools that you can utilise to develop this skill into something that provides you with your own clarity.  Plus you'll get an understanding of what can take you away from this heart-centred focus.
This is a half day workshop that starts with preparation, then clearing and then the tools and process to support connection to the heart.Workshop Facilitators.
Joel Delaney
Joel has supported his clients over the past 10 plus years through a combination of acupuncture skills in reading the body, learning from high level teachers and continually searching for practical answers.  Over this time he has been able to develop his intuitive and Claircognizance (sense of knowing) skills.
Working one-on-one with clients has provided him the privilege of testing and re-testing these skills to better understand and develop them into something very tangible and effective.  Through this process it has enabled him insight as to what practically works and how this can best serve you to understand your body, your skills and what would help you to get the change you're after.
Eleni Jurkschat
Eleni has been helping people in private and corporate settings to successfully make change for over 12 years.  She combines her intuitive skills with her facilitation and coaching skills to support individuals to create the future they want, and support them to take necessary practical steps to make it happen.
Her work has allowed her the opportunity to build her heart-centred intuition, which has fostered her ability to read people and situations.  Eleni also supports people with energy healing work which requires her intuition to read and understand the body so she can focus on areas where healing is required and support clients to improve their wellbeing.
What people liked about our last intuition workshop.
"Both Joel and Eleni were very honest, real and knowledgeable with their delivery. That helped me to be open to the experience". 
 "Insight into oneself without judgement, in a safe / nurturing environment". 
 "Learning to trust my intuition with like-minded people".
 "Meditation with all the like-minded people was awesome"…. 
 "We all have this ability. It's understanding the "noise" and how to quiet it down and the simple steps to developing intuition and it to change your life for the better". 
 "It has given me a greater awareness of the constructs and blockages that are restricting me from making the decision that I know I need to make". 
 "Learning what questions to ask myself". 
 "The transparency and openness of teachings and the tools for learning". 
For further information please contact Eleni at or Joel at telephone 07 3369-0045