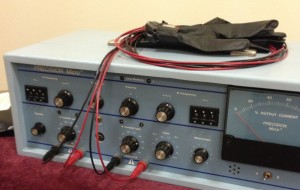 Frequency Specific Microcurrent Therapy incorporates some of the most up-to-date research and techniques in injury and pain management, directly targeting individual tissues and cellular disturbances to repair damaged tissue and enhance bio-electrical activity.
Through the use of the Frequency Specific Microcurrent Unit, individual tissues and cellular disturbances are directly targeted with streams of life-giving electrons, which help normalise cellular function. These improvement s in cellular bio-electrical activity are considered the hallmarks of healthy cellular function and may assist in reducing symptoms of pain. The powerful effect of Frequency Specific Microcurrent Therapy helps:
Relieve pain
Reduce muscle spasms
Reduce muscle loss
Increase blood circulation to injured areas
Maintain and /or increase range of motion to injured areas
Results
Frequency Specific Microcurrent has been successfully used by Health care Practitioners around the world to relieve the symptomatic pain associated with many conditions including:
Sprains
Muscular aches spasms and crams
Mild neuralgia
Sciatica
Pain Relief
Frequency Specific Microcurrent Therapy may help you recover from injuries faster and reduce the effects of acute and long-term pain.