A Christmas feast doesn't have to leave you feeling heavy and bloated. Check out these healthy recipe ideas to turn your Christmas dinner into a healthy, happy affair.
Main
Turkey with Orange, Sage and Pistachio Stuffing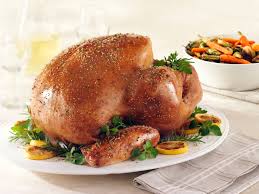 Ingredients
Fresh Turkey
1 tbs finely grated orange zest
1 tbs chopped fresh sage
1/2 cup pistachios, coarsely chopped
280g (4 cups) fresh breadcrumbs (made from day old bread)
60g butter
Melt half the butter in a large frying pan over medium heat. Add the breadcrumbs, pistachios, sage, orange zest and remaining butter. Cook, stirring, until the butter melts. Season with pepper. Preheat oven to 180°C. Rinse the turkey inside and out under cold running water. Pat dry with paper towel. Fill the cavity with stuffing mixture. Tie the legs together with unwaxed kitchen string. Tuck the wings under. Place turkey, breast-side up, in a roasting pan. Brush with some extra butter and cover with foil. Roast in oven, basting every 30 minutes, for 3 hours. When done, transfer turkey to a platter. Remove string. Cover with foil and set aside for 10 minutes to rest.
Sides
Brussel Sprout Salad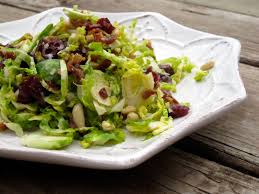 Ingredients
1kg brussels sprouts, trimmed
1 tbs olive or coconut oil
8 rashers bacon, sliced
2 cloves garlic, thinly sliced
1/3 cup pine nuts, toasted
2 tbs lemon juice
Thinly slice brussels sprouts using a sharp knife or shave each using a mandoline. Transfer to a large bowl. Heat oil in a saucepan over medium-high heat. Add bacon and fry for 5 minutes or until crisp. Add garlic and stir for 30 seconds or until aromatic. Add brussel sprouts and cook, stirring constantly, for 3 minutes or until they turn bright green and just start to soften. Transfer to a serving bowl, season with salt and pepper, top with pine nuts and drizzle over lemon juice. Serve. (You could also use thinly sliced prosciutto in place of the bacon, or almonds in place of pine nuts.)
Roast Veggies with Rosemary, Thyme and Sea Salt

Ingredients
Preheat oven to 200°C. Arrange the potato, pumpkin and onion, in a single layer, in a large roasting pan. Drizzle over the oil and toss to coat.
Combine the rosemary, thyme and salt in a small bowl. Sprinkle over the vegetables. Roast in oven, turning once, for 1 1/4 hours or until tender and lightly golden.
Greens with Almond and Lemon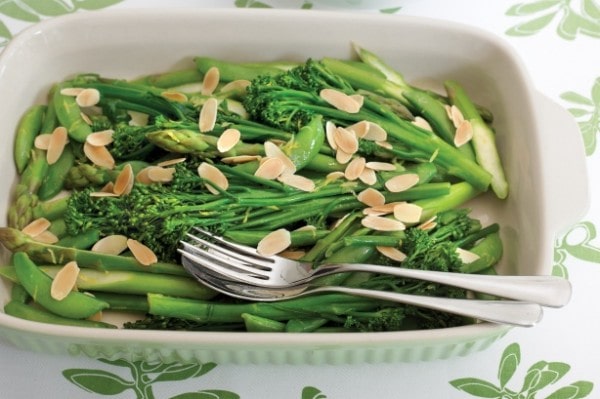 Ingredients

Whisk together the olive oil, lemon rind and lemon juice in a small jug until well combined.
Blanch the broccolini in a large saucepan of boiling water for 1 minute or until bright green and tender crisp. Use a slotted spoon to transfer to a colander and drain. Repeat with the asparagus and sugar snap peas. Place the vegetables in a large serving dish.
Cook the almonds in a small frying pan over a medium heat for 5 minutes or until toasted.
Drizzle the dressing over the vegetables and season with pepper. Toss to combine. Top with almonds to serve.
Rocket, Orange & Currant Salad
Ingredients
½ cup olive oil
1½ tsp ground cumin
½ tsp turmeric
5 Navel oranges
3/4 cup currants
120g baby rocket leaves
 herbs of choice, snipped (dill, parsley, etc)
Whisk oil, cumin and turmeric together in a bow. Season with salt and pepper. Remove skin and pith from oranges. Use a sharp knife to cut each orange into segments (do this over a small bowl to catch the orange juice.) Add 1/3 cup of the juice to the oil mixture and stir. Combine the orange segments with currants, rocket and herbs in a large serving bowl. Drizzle juice dressing over and toss salad well to combine.
Dessert
5-Minute No-Bake Christmas Puddings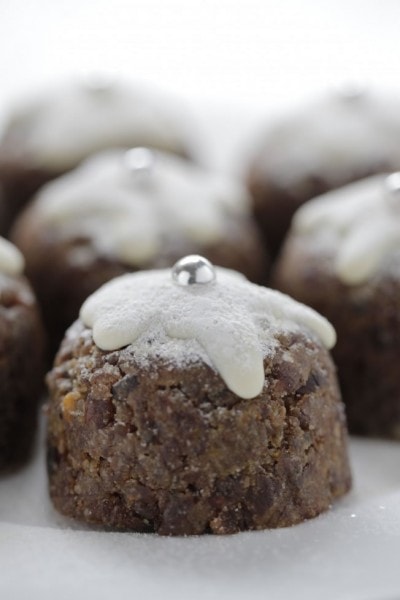 Ingredients
225g fresh pitted dates – approx 10 – 15  dates depending on their size
zest from 1 orange
250g organic dried apricots, chopped
150 g (1 ½ cups) almond meal / ground almonds
1  teaspoon vanilla bean paste or extract
1 tsp ground cinnamon
¼  tsp ground nutmeg
¼ tsp ground ginger
80 g white chocolate, melted for decoration – optional (please see other great topping ideas below)
Combine dates, orange zest, apricots, vanilla, ground almonds, cinnamon, nutmeg and ginger in a food processor.
Process until mixture is combined and looks like fine crumbs.
Spoon mixture into a large bowl and add 1 – 2 tablespoons orange juice then mix again. Your pudding mix should come together in the hands when lightly squeezed.
Divide puddings into 6 small puddings. The best way to do this is to line the base of your desired mould with glad wrap and press the pudding mixture into it firmly.
Invert the pudding and remove the glad wrap. Repeat until all the puddings are formed.
Melt white chocolate in a small bowl that is set over a simmering pot of water.
Spoon a little white chocolate over the tops of the puddings if using and garnish. You can use goji berries, fresh cherries or anything you fancy. Alternatively omit the topping if you wish. Yoghurt or proper custard as a topping also works well.
Arrange onto a serving plate and set aside until needed.
Store in the fridge for up to 2 weeks.