Bone broth has been around for centuries and for good reason – It's full of nutrients, amino acids, and minerals. You can drink it straight or save it for making stews or casseroles, simmering grains, or using it in any manner of meals. You can also use bone broth in any recipe that calls for chicken or beef stock.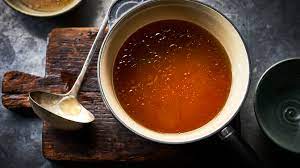 Ingredients
500 g beef bones (Ox-tail, marrow bones, etc)

2 tbs apple cider vinegar

10 L water

1 tbs coconut oil

2 carrots chopped rough

1 medium brown onion quartered

1 stick celery chopped rough

2 star anise

1 cinnamon

1 tsp coriander seeds

1 chilli chopped rough

1 cm ginger peeled and sliced

2 garlic cloves whole

1 thyme bunch

1 bunch coriander roots about 5 roots
Method
Pre heat oven to 200 Degrees.

Rinse the beef bones, pat dry, then roast for 30 minutes.

In a pan on medium heat add and toast star anise, cinnamon and coriander need till fragrant (5minutes)

Place all remaining ingredients, spices, and part roasted ox tail (with veg) into a large stockpot on a medium heat. Pour in enough water to fill 10 litre pot. With the lid on bring to the boil.

Turn heat down and cook for 5-6 hours until meat is falling off the bone, skimming fat of the top every 40 minutes.

Gently remove the bones then strain broth. Store in containers in the fridge for one weeks or freezer for 3 months.