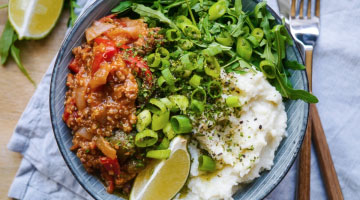 This is a super simple recipe combining veggies, protein and quality carbs in one pot to make a quick healthy dinner. Gluten free, dairy free and sugar free. Add any leftover veggies in your fridge to increase the plant matter and bulk up your chilli.
Ingredients
400

grams

beef mince, preferably grass-fed, organic

2-3

capsicums

2

brown onions

1/2

cup

uncooked quinoa, rinsed

400

grams

tinned tomatoes

(BPA free)

1 1/2

cups

beef stock

2

cloves

garlic

2

tsp

ground cumin

2

tsp

ground coriander

1

tsp

smoked paprika

1

tsp

dried oregano

1/2

tsp

cayenne pepper

(adjust to taste)

Salt & pepper to taste

2

tbsp

coconut oil or other healthy fat for frying
Instructions
Peel the onions and wash the capsicum, then slice both thickly. Peel the garlic and crush through a garlic press or chop finely.

Heat the oil in a large saucepan/pot (with a lid) over the stove, on a high heat. Add the onion and the capsicum and sauté for 2-3 minutes until the onion starts to turn translucent. Add in the mince, garlic and all of the dried spices, breaking up the mince with a large spoon, and continue to cook until the meat is browned.

Pour in the tinned tomatoes, quinoa, and the stock, and stir until combined. Allow the mixture to heat until bubbling, then reduce the stove temperature low enough so the mixture is just simmering.

Place the lid on the saucepan so it's just slightly ajar, and allow the chilli to gently simmer for about 20 minutes, stirring occasionally, until the quinoa has cooked completely and the mixture is nice and thick. You can add another half cup of stock or water toward the end of the cooking process, if needed.

Serve hot with sides such as rice and salad greens, in a wholegrain burrito wrap with brown rice and greens, or over organic corn chips with guacamole and greens.
Recipe Notes
*You can use whatever colour quinoa you like in this recipe. Also, rinsing quinoa is important because it gets rid of saponins, compounds on the outside of the quinoa seed which can make the quinoa taste bitter and which can also upset some peoples' tummies. Put your quinoa in a sieve and rinse thoroughly with running water.