The Chilled Out Egg Roll is a favourite recipe within our clinic lunch room, often with a few variations depending on the available produce.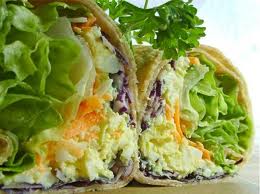 The Chilled Out Egg Roll is quick to make, rich in protein, health giving oils, is low carbohydrate and very delicious! The recipe can be changed depending what you have in the fridge. 
The Chilled Out Egg Roll is a high protein lunch recipe that provides the body with amino acids such as tryptophan and glutamine. Such amino acids are important for modulating the stress response and helps to manage anxiety.
Sprouts are a good source of minerals such as magnesium that the body utilises readily during times of stress. Avocado and Salmon are both good sources of healthy fats that promotes optimal nervous system health and down regulate inflammation. The Nori provides the body with iodine, a trace mineral that can be difficult for us to find in the standard western diet. Iodine is essential for normal thyroid function; the thyroid gland if out of balance can lead to mood changes and digestive upset.
The Chilled Out Egg Roll
Ingredients:
2 eggs
1 nori sheet
1-2 tablespoons of Sauerkraut (if desired)
1 small can of wild caught salmon or trout in spring water
A handful of sunflower sprouts
1/2 an avocado
Spicy eggplant chutney
Method:
Beat two eggs and then pour it onto a flat based sandwich press that will create a omelette.
The omelette will act like a wrap, inside the egg omelette place the nori sheet, then just simply add in all of the other ingredients, then roll in up and chop into small bite sized pieces.