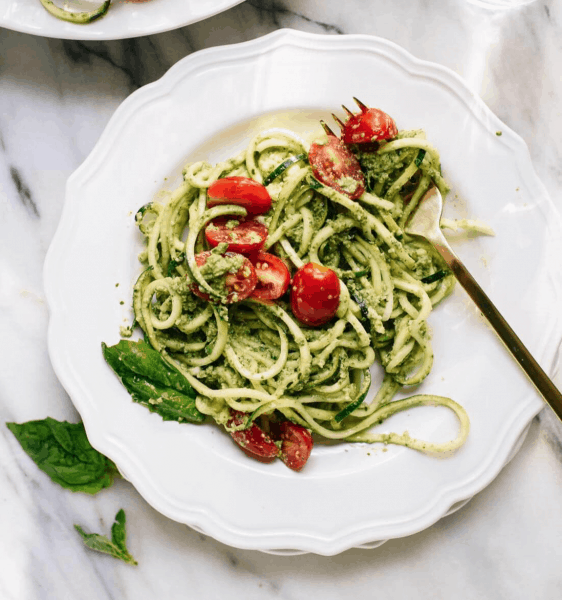 Fresh, raw zucchini noodles tossed with basil pesto and cherry tomatoes make a delicious, healthy, veggie-packed meal. Make this recipe for lunch or dinner, or even serve it as a side! Recipe yields 4 generous main dish servings.
INGREDIENTS
Basil-pumpkin seed pesto
½ small yellow onion, roughly chopped*
1 garlic clove, roughly chopped
2 cups packed fresh basil leaves (arugula works, too)
½ cup pepitas (green pumpkin seeds), toasted**
⅓ cup olive oil
2 teaspoons red wine vinegar, to taste (or lemon juice)
Pinch of red pepper flakes
Salt, to taste
Zucchini noodles
3 large zucchini
Salt
1 pint cherry tomatoes (whole or halved)
Fresh basil leaves, for garnishing
INSTRUCTIONS
To prepare the pesto: In a food processor, combine the onion (if using, see notes), garlic, basil, toasted pepitas, olive oil, vinegar and red pepper flakes. Blend until smooth and season with salt, to taste.
To prepare the noodles: Spiralize the zucchini with a spiralizer (many available on eBay or general kitchen shops). Toss the zucchini with pesto until well coated, and season with salt.
Transfer the pesto noodles to a large platter and sprinkle with the cherry tomatoes. Tuck the fresh basil in to the corners to garnish.
NOTES
*If you're sensitive to the flavor of raw onion, just skip it.
**To toast the pepitas, pour them into a medium skillet over medium heat. Cook, stirring frequently, until the seeds are fragrant and the pepitas are starting to make little popping noises, around 5 minutes.