Few salads are as filling and tasty as grain salads like those made with bulgur, farro, wild rice, and quinoa (while technically a seed, quinoa shares many qualities with whole grains, so we're counting it).
These whole grains not only add a burst of extra nutrition, they provide an ideal base for a variety of flavors, and are easily translated into meal-worthy salads perfect for lunches, dinners, and sides for BBQs or entertaining.
Salad One: Ginger Roasted Pumpkin + Quinoa Salad With Mint, Chili, + Lime
Serves 2-4 or more as a side
1kg piece pumpkin
1 tablespoon finely grated fresh ginger
2 green or red chillies, finely chopped
2 cloves garlic, finely chopped
2 tablespoons olive oil
2 teaspoons pure maple syrup
Fine sea salt and freshly ground black pepper
1 cup (185g) quinoa
1 1/2 cups (375ml) water
The juice of two limes (or large lemon)
A good handful each of fresh mint and coriander (cilantro) leaves
Toasted pumpkin (pepita) seeds
To Make:
Pre-heat oven to 200C. Peel pumpkin, remove the seeds and cut into even chunks approximately 2-3cm wide. Combine pumpkin with ginger, chilli, garlic, olive oil, maple and season well with salt and pepper. Combine well before turning out onto a large oven tray. Bake for 25-30 minutes, turning once or twice or until the pumpkin is lovely a golden and soft right through. Remove from the oven and set aside to cool slightly.
Meanwhile place quinoa into a fine-mesh sieve and rinse well. Bring the water to the boil in a small saucepan before adding the quinoa, covering with a lid and reducing the heat down to a gentle simmer. Cook for 10-12 minutes until the water has been absorbed and the quinoa is tender. Remove from the heat, leave the lid on and set aside to steam for a further 5 minutes before fluffing up with a fork.
When both the pumpkin and quinoa are cooked, combine the two in a large bowl, making sure you scrape any lovely bits of ginger and oil from the bottom of the roasting tray into the bowl too. Squeeze over the lime, stir through the herbs, season with more salt and pepper if desired and scatter over the pumpkin seeds to serve. You can eat this warm or cool the pumpkin and quinoa first before stirring through the herbs and serve at room temperature.
Salad Two: Avocado Tabbouleh Lettuce Wraps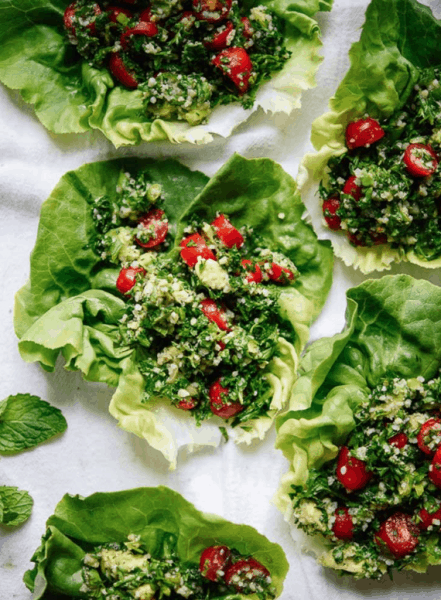 Feel free to soak the bulgur up to a day in advance.
Serves 8 small side servings or lettuce cups.
⅓ cup #1 fine grade bulgur (you can turn coarse bulgur into fine bulgur by pulsing in the food processor)
2 to 3 bunches curly parsley (to yield 2 cups finely chopped parsley)
1 pint cherry tomatoes, diced into ¼-inch wide rounds
1 ripe avocado, diced
5 green onions, sliced thinly crosswise
4 large sprigs fresh mint leaves, finely chopped (to yield ¼ cup chopped mint)
¼ cup olive oil
2 tablespoons to ¼ cup fresh lemon juice, to taste (about 1 to 2 medium lemons, juiced)
¼ teaspoon salt, more to taste
¼ teaspoon garlic powder
Freshly ground black pepper, to taste
To serve as lettuce cups: 1 head butter lettuce or 2 heads Little Gem romaine, rinsed and dried
To make:
Rinse the bulgur a couple of times in a small bowl, letting the bulgur settle for a few seconds before pouring off the water (Use a fine-mesh colander to catch the bulgur when pouring off the water). Add enough fresh water to just cover the bulgur and soak for 30 minutes, or until it is softened. Pour off and squeeze out any excess water.
While the bulgur softens, prepare the parsley. Rinse it well, then dry it in a salad spinner and then gently squeeze it in clean kitchen towels to get rid of any remaining moisture. Or, you can wrap the damp parsley in clean kitchen towels and gently squeeze out excess water, repeating as necessary. The drier the parsley, the easier it will be to chop up and the better your tabbouleh will be.
Pinch off the curls of parsley from their stems. Chop the curls in two or three batches until it's finely chopped.
In a medium serving bowl, combine the parsley, tomato, avocado, green onions, mint and bulgur. Stir in the olive oil, 2 tablespoons lemon juice, salt, garlic powder and pepper. Taste and adjust the seasonings, adding more lemon and salt if needed. Let the tabbouleh rest for about 15 minutes to give the bulgur time to soak up the flavors.
Serve the tabbouleh as a salad immediately. Or, to serve as lettuce cups: pull the leaves from your lettuce and arrange the nicest, most cup-like leaves on a platter. Fill each cup with a big spoonful of the tabbouleh and serve immediately.
Salad Three: Sorghum, Sweet Potato, and White Bean Salad With Kale Pesto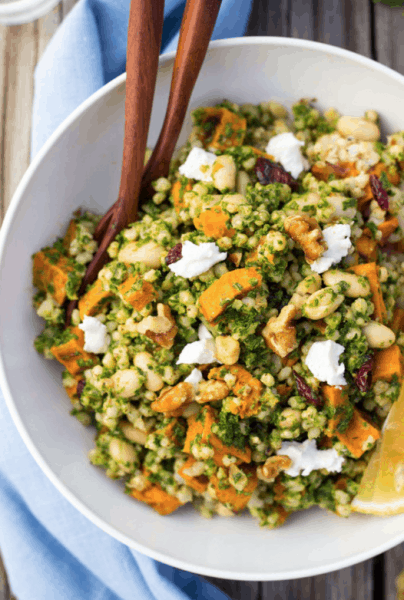 1 cup dried Sorghum
1-15 ounce can of white beans, rinsed and drained
1 large sweet potato, peeled and cut into cubes
1 handful dried cranberries
1 handful toasted walnuts
3-4 ounces goat cheese, crumbled
olive oil
salt
pepper
lemon slices for squeezing over, if desired
Kale Pesto:
1 bunch of kale, stems removed
Juice of 1/2 a lemon
1 large clove garlic, roughly chopped
1/4 cup toasted walnuts
1 1/2 tablespoons nutritional yeast, or 2 tablespoons grated Parmesan cheese
1/4 cup + 1 tablespoon extra virgin olive oil
1/2 teaspoon salt
1/4 teaspoon pepper
To Make:
Cook sorghum according to package directions. Let cool for a few minutes when finished cooking.
Pre-heat the oven to 200 degrees C. Place the peeled and cubed sweet potatoes on a large backing sheet and drizzle with a little bit of oil and season with salt and pepper. Toss to coat and place into the oven and bake for about 20-25 minutes, or until fork tender.
Make the kale pesto by adding all of the ingredients to a food processor and processing for about 30 seconds, or until everything is mixed together and a pesto spread is formed.
Add the sorghum, white beans, sweet potatoes, walnuts, dried cranberries, goat cheese, and kale pesto to a large bowl and mix until everything is combined. Season with salt to taste.