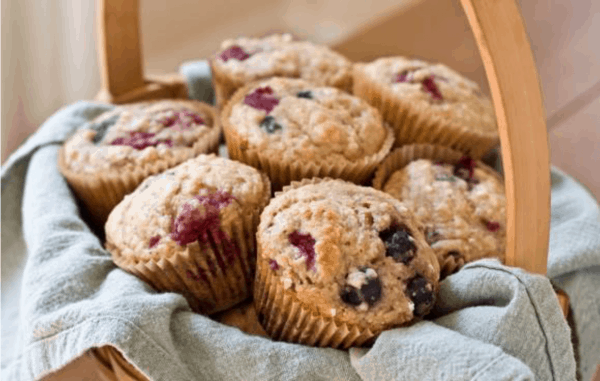 We have a couple of Paleo-goers in our clinic, and it's certainly an eating trend on the rise. Here is a great paleo recipe you can eat for breakfast-on-the-run, or as a guilt-free treat during the day.
Ingredients
1 cup almond flour
1/2 cup coconut flour
1/2 cup tapioca flour
2 tsp baking soda
1 tsp sea salt
1 Tbs cinnamon
1 Tbs allspice
1 cup dates, pitted
3 ripe bananas
3 eggs
1 tsp apple cider vinegar
1/4 cup coconut oil
1/2 10-oz bag frozen berries (blackberries, blueberries, raspberries) OR 1 1/4 cup fresh berries
¾ cup zucchini, grated
¾ cup almonds, finely chopped
muffin paper liners
Instructions
Take berries out of freezer to thaw, if applicable.
Preheat oven to 180 C.
In a large bowl, combine almond flour, coconut flour, tapioca flour, baking soda, salt, cinnamon and allspice.
In a food processor, combine dates, bananas, eggs, vinegar and oil.
Transfer mixture to a large bowl and blend until completely combined.
Finely grate zucchini (or food process it).
Fold in berries, zucchini and almonds.
Spoon mixture into paper lined muffin tins.
Bake at 180° for 20 minutes.