This is a great meat-free, cost effective, easy to prepare vegetarian meal. Why is it healthy? Lentils are a great source of fibre, vitamins, minerals and a vegetarian source of protein. Combined with the assortment of vegetables, spices and stock,  this a complete, nourishing meal.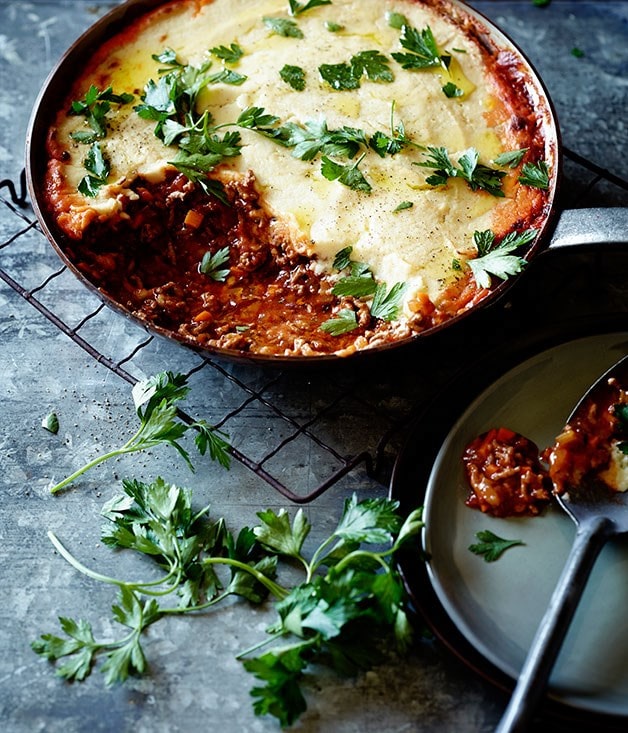 Ingredients
1 large onion, finely diced
2 cloves of garlic, finely diced
2 medium sized carrots, diced
1 medium sized zucchini, diced
2 sticks of celery, sliced
1 cup of diced mushrooms
2 cups of cooked brown lentils (or 2 cans, drained and rinsed)
1 can of diced tomatoes, or fresh diced tomatoes to avoid BPA
250ml (1 cup) of vegetable stock (preferably home made)
1 tablespoon of fresh rosemary, roughly chopped
½ teaspoon of smoked paprika
Good pinch of sea salt and black pepper to taste
2 tablespoons of hot water
1 tablespoon of corn flour
5-6 medium sized potatoes, peeled and diced into 1-2cm cubes
Handful of grated parmesan (optional)
Handful of sunflower and/or pumpkin seeds (optional)
Method
Preheat your oven to 200 degrees celsius.
In a medium sized pot, sauté your onion and garlic in a little oil for a few minutes until opaque.
Add the carrots, zucchini, celery, lentils, tomatoes, stock, rosemary, paprika and seasoning.
Bring to a simmer for 10-15 minutes.
Meanwhile mix the water and cornflour until combined and add to the pot to thicken for a few more minutes.
Pour into an oven proof dish and top with the diced potato (and optional cheese and seeds).  Stud with any extra rosemary sprigs if you like.
Bake for 20-30 minutes or until the potato is golden and cooked through.
Note – you can top with traditional mashed potato if you like.  We can often be lazy, time poor cooks and always looking for short cuts in the kitchen (and ways to reduce washing up)!  This is one saves time and washing, but it doesn't alter the taste too much and the crispy baked spuds on top add an extra bonus.
Serve
Immediately or can be frozen in portions
Variations
Different pie top: You can also top the pie with sweet potato, cauliflower pieces or cauliflower mash.
Vegan: Omit the cheese.
Gut repair: If you aren't vegetarian and looking to include bone broth in your diet, substitute the vegetable stock with bone broth.
Add bacon: Brown lentils and bacon is a match made in heaven.  So if you please, add 4 rashers of nitrate free bacon with the onion.
Fussy eater tip: Grate the vegetables so they sit behind the lentil/tomatoes.