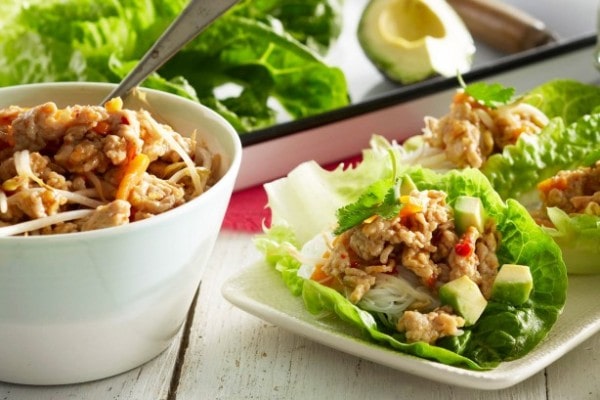 This is really quick, really easy and really healthy. The perfect combo.
Ingredients
50g rice vermicelli noodles
1 1/2 tsp cornflour
2 tbsp water
1 tbsp olive oil
1 small (75g) carrot, peeled, cut into matchstick-size strips
4 cm-piece (20g) fresh ginger, peeled, finely chopped
3 cloves garlic, crushed
1 (14g) fresh loose long red chilli, finely chopped
400g chicken mince
1 1/2 tbsp oyster sauce
1 1/2 tbsp fish sauce
40g fresh bean sprouts
12 cos lettuce leaves (about 1/2 lettuce)
1/2 firm but ripe avocado, peeled, pitted, and cut into cubes
1/2 lime, cut into 4 thin wedges
Method
Bring a large saucepan of salted water to a boil over high heat. Stir in the vermicelli and cook, stirring often, for about 1-2 mins or until barely tender. Drain in a sieve and rinse under cold water until cooled. Drain well and transfer to a bowl. Stir the cornflour and 2 tbsp water in a small bowl to blend.
Heat a wok or large heavy-based non-stick frying pan over medium-high heat. Add the oil, then add the carrot, ginger, garlic, and chilli and cook for about 1 min, or until fragrant. Add the mince and cook, breaking it up with a spoon or spatula, for 2 mins or until almost cooked. Stir in the oyster sauce, fish sauce, and cornflour mixture. Cook for about 1-2 mins to allow the flavours to blend and the sauce to simmer and thicken slightly. Fold in the bean sprouts.
Divide the vermicelli among the lettuce cups. Top with the mince mixture. Garnish with the avocado and coriander, and serve with the lime wedges.