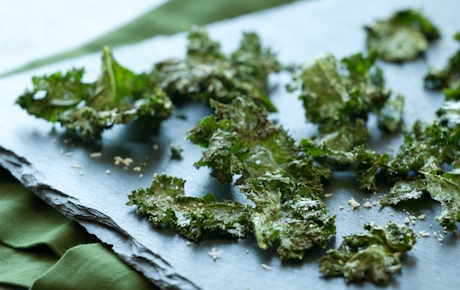 Baked kale chips are one of the healthiest options you could reach for when in need of a snack. Don't be put off by their appearance – they are delicious! Labelled a superfood, kale is packed full of vitamin A, C, K, iron and calcium. Kale chips are REALLY quick and easy to make, but we can't stress enough that the kale should be dry when you bake it. Otherwise, instead of being crispy and crunchy, it might come out chewy.
To make the chips, tear or cut the leaves off the stem. If you are making a lot of kale chips, we recommend spreading the kale out over two pans. You don't want to overcrowd the pans; otherwise the kale won't turn out as crispy. Keep a close eye on them in the oven since everyone's baking times can differ.
Ingredients 
1 bunch of kale, washed and dried
2 tbsp olive or coconut oil
salt to taste
Directions
1. Preheat oven to 300 degrees. Remove the center stems and either tear or cut up the leaves.
2. Toss the kale and oil together in a large bowl; sprinkle with salt. Spread on a baking sheet (or two, depending on the amount of kale). Bake for 5-10 minutes or until crispy.
Easy, healthy and delicious!