All these recipes are super easy, take hardly any time and can be enjoyed for breakfast-on-the-go, in lunch boxes, or for healthy after-school snacks.
Fruit & Yoghurt Cups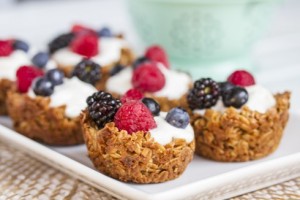 3/4 cups medjool dates, pitted
1/2 cup desiccated coconut
3/4 cup cashews
1/3 cup pistachios, shelled
plain yoghurt and fresh berries to serve
METHOD
Place dates, coconut, cashews and pistachios in food processor and blitz until finely chopped and mixture sticks together. If needed, add another date or two to make the mixture stick together. Divide the mixture between 5 holes of greased muffin tray and gently press the mixture into the bottom and up the sides. Place the tray into the freezer until the shells have set (approx 1 1/2 hours). Gently run a knife around edge to remove shell. To serve, fill with yoghurt and top with fresh berries. Cups can remain in freezer-friendly air tight container for up to a week.
Apricot Coconut Bliss Balls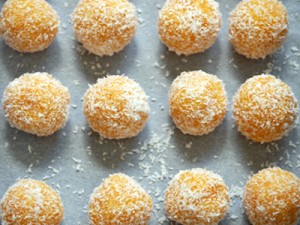 1 cup dried apricots
1 cup desiccated coconut
1 cup almond meal
1 tbsp coconut oil, melted
1 tsp vanilla bean paste
2 tbsp honey
METHOD
Place apricots, coconut, almond meal, coconut oil, vanilla bean paste and honey into food processor and blitz until mixture comes together. If needed, add a splash of water to make mixture come together and shape into balls. Take heaped teaspoons of mixture, shape into balls and roll through the coconut until coated. These balls will keep refrigerated in air tight container for 7 days. They also freeze well for up to 3 months.
Jam Drop Cookies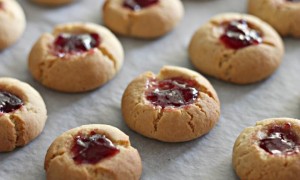 2 cups buckwheat flour
1 1/2 cup almond meal
1 tsp cinnamon
3/4 cup maple syrup
1/2 cup blueberry jam
METHOD
Preheat oven to 180C. Line two cookie trays with baking paper. Place flour, almond meal, cinnamon, maple syrup and oil into bowl and mix to combine. Take heaped tablespoons of the mixture, roll into balls and place onto the prepared trays. Use your thumb to make an indentation at the centre of each ball and spoon half a tablespoon of jam into the centre of each cookie. Bake for 14-16 minutes or until crisp and golden. Allow to cool completely before placing on wire rack to cool completely.
Peanut Apple Sandwiches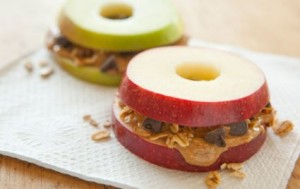 Apples
Peanut butter
Sultanas
Granola, optional
METHOD
Core an apple and slice. Spread peanut butter on a slice, cover with sultanas and granola and top with another slice so it resembles a sandwich and enjoy. Easy!
Apple Cinnamon Breakfast Cookies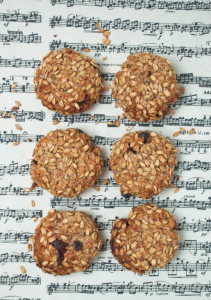 1 large banana
2 cups rolled oats, plus extra for decorating
1 teaspoon ground cinnamon
1/2 cup almond meal
1/2 cup sultanas
1/2 cup dried apple, chopped
2 tbsp honey (or maple/agave syrup if your child is less than a year old)
1 tsp vanilla
1/4 cup olive oil
METHOD
Preheat oven to 160C. Put banana into food processor and pulse until smooth. Add oats, cinnamon, almond meal, sultanas, dried apple, honey, vanilla and oil and pulse until combined. The dough will be quite wet but solid enough to shape into cookies. If dough is too wet, just add a bit more almond meal. Shape into cookies and roll in extra oats. Place on tray and bake for 30-35 minutes, flipping the cookies halfway. Allow the cookies to cool slightly on the tray before placing on wire rack to cool completely.