This is a guilt-free sweet fix recipe. Very quick and simple to prepare and has the texture of chocolate mousse.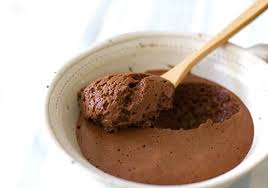 Raw cocao is rich source of magnesium, iron and flavonoids. Flavonoids are a potent anti-oxidants that protect the cells against damage from free radicals within our environment. The recipe also contains chia seeds that provided the body with omega 3 fatty acids, protein and soluble fibre. Omega 3 fatty acids and protein are very important for fertility, and soluble fibre acts like an intestinal broom to mop up any waste and clear it out of the body.
Ingredients:
1 cup of coconut cream

1Ž4 cup of chia seeds

1/8 of cup of raw cocao powder

1/2 a cup of organic raspberries

2 teaspoons of maple syrup

1 orange (the juice of)
Method:
Stir all ingredients together and set in the fridge over night.
Easy, healthy, delicious.