Our bodies could all use a little cleansing now and again, particularly after a period of indulgence or heavy, rich winter meals. Whether your motivation is to lose weight, flush out toxins, boost energy levels or simply feel healthier, it could be time to detox. If you don't want to go the the extreme of a detox diet such as the lemon detox, why not try out some of these delicious detox recipes…just in time for Spring.
1. Quinoa Salad with Toasted Almonds
Ingredients
1/4 cup slivered almonds
1/2 cup (3 ounces) quinoa
4 teaspoons olive oil
1 yellow bell pepper, ribs and seeds discarded, cut into 1/2-inch chunks
2 garlic cloves, minced
2 scallions, thinly sliced
1/8 teaspoon red-pepper flakes
1 teaspoon chopped fresh thyme, plus more for garnish (optional)
1/4 teaspoon coarse salt
1 medium zucchini, halved lengthwise and sliced 1/2-inch thick
1 large celery stalk, diced
1 lime, halved
Directions
Preheat oven to 350 degrees. Toast almonds until crisp, lightly browned, and fragrant, about 7 minutes. Remove from oven and set aside. Meanwhile, place quinoa in a fine sieve and rinse under cold running water until the water runs clear; drain well.
In a medium saucepan, heat 2 teaspoons olive oil over medium heat. Add yellow pepper, garlic, scallions, and red-pepper flakes; cook until the pepper is crisp-tender, about 5 minutes.
Stir in quinoa, thyme, 1 cup water, and 1/4 teaspoon salt. Bring to a boil, reduce to a simmer, cover, and cook 7 minutes. Stir in zucchini, cover, and cook until quinoa is tender but not mushy, 5 to 8 minutes longer. Remove the saucepan from heat.
Stir in celery, almonds, and remaining 2 teaspoons oil, season with salt, and fluff with a fork. Squeeze lime over salad, and enjoy!
2. Beetroot and Pomegranate Soup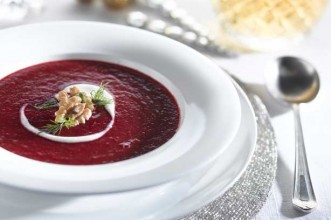 Ingredients
1tbsp light olive oil
75g onion, finely chopped
175g carrots, diced
150g  parsnips, thinly sliced
½ tsp ground coriander
800ml light stock
350g cooked beetroot (not in vinegar), sliced
4tsp fresh dill, chopped
1 pomegranate
To garnish
4tbsp natural yogurt
2tbsp walnut pieces (optional)
Method
Heat the oil in a large saucepan and sweat the onion, carrot and parsnip for 5 mins until it starts to soften. Add the coriander and cook for a further 2 mins.
Add the stock and beetroot. Bring to the boil and then simmer for 20 mins, adding 2 tsp of dill for the last 2 or 3 mins.
Cut the pomegranate in half and extract the juice using a lemon squeezer. Blend the soup and add the juice to taste (up to 4 tbsp).
Garnish with the yoghurt, walnut pieces and remaining 2 tsp chopped dill. Serve with walnut bread or granary or rye rolls (bread is optional).
3. Green detox drink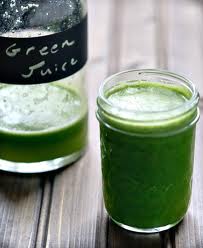 This vegetable detox drink is made up primarily of green vegetables, providing an effective natural body cleanse of the digestive system.
Ingredients
Method: Mix all ingredients with water and puree in a blender.
4. Salmon Stir-Fry
Method
Mix together the orange juice, honey and soy sauce.
Heat the oil in a large wok. Add the broccoli and stir fry for 2 mins, add the salmon and beans and stir-fry for a further 2 mins.
Add the remaining ingredients, and continue to cook, keeping all the ingredients moving, for a further 2 mins. The vegetables should still retain some crunch.
Add the orange dressing and heat for 1 further minute. Serve immediately with freshly cooked noodles. (optional)
5. Avocado Couscous Salad
This is such a versatile salad, add chopped dried apricots, sultanas or even chopped apple. It tastes even better the next day, when the couscous has absorbed all the flavours.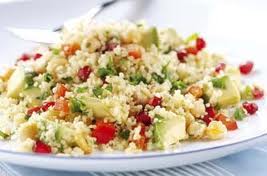 Ingredients
2 avocados
500g couscous
1tbsp lemon juice
1 x 220g can chickpeas, drained – or soaked and freshly home-cooked
1 red pepper, finely chopped
1 pomegranate
4tbsp orange juice
2tbsp virgin olive oil
2tbsp mint, chopped
1tbsp flat leaf parsley, chopped
100g pine nuts, toasted
Method
Cover the couscous with boiling water. Cover with a damp tablecloth and leave to soak for 20 minutes. Fork though to loosen the grains.
Peel and stone the avocado and cut into chunks. Toss in the lemon juice.
Mix together the avocado, chickpeas and pepper and add to the couscous.
Split the pomegranate and remove the seeds. Do this over a bowl so to catch any juices. Add the seeds to the couscous.
Add the orange juice to the lemon juice and whisk with the oil. Add the dressing and herbs to the couscous and fork through. Serve with a sprinkling of pine nuts.
Please Note:
If none of these recipes take your fancy, try some of these foods as a general detox rule in other recipes you like.
Dairy substitutes: Rice, oat, and nut milks such as almond milk and coconut milk
Non-gluten grains: brown rice, oats, millet, amaranth, teff, tapioca, buckwheat, potato flour, quinoa
Fruits and vegetables: whole fruits, unsweetened, frozen or water-packed, canned fruits, and diluted juices, all raw vegetables, steamed, sauteed, juiced, or roasted vegetables
Animal protein: fresh or water-packed fish, wild game, organic chicken, and turkey
Vegetable protein: split peas, lentils, and legumes
Nuts and seeds: walnuts, sesame, pumpkin, and sunflower seeds, hazelnuts, pecans, almonds, cashews, nut butters such as almond or tahini
Oils: cold-pressed olive, flax, safflower, sesame, almond, sunflower, walnut, canola, pumpkin
Drinks: filtered or distilled water, decaffeinated herbal teas, seltzer or mineral water
Sweeteners: brown rice syrup, agave nectar, stevia, fruit sweetener, blackstrap molasses
Condiments: vinegar, all spices, including salt, pepper, basil, carob, cinnamon, cumin, dill, garlic, ginger, mustard, oregano, parsley, rosemary, tarragon, thyme, turmeric.
Happy Cooking!