This is one of our all time favourite winter warming soups!
It is packed with immune building herbs and spices such as ginger, turmeric, chilli and garlic. Once you've made up the spice paste it is a quick process, and stores well in the fridge for a few days.
Spicy Coconut Chicken Soup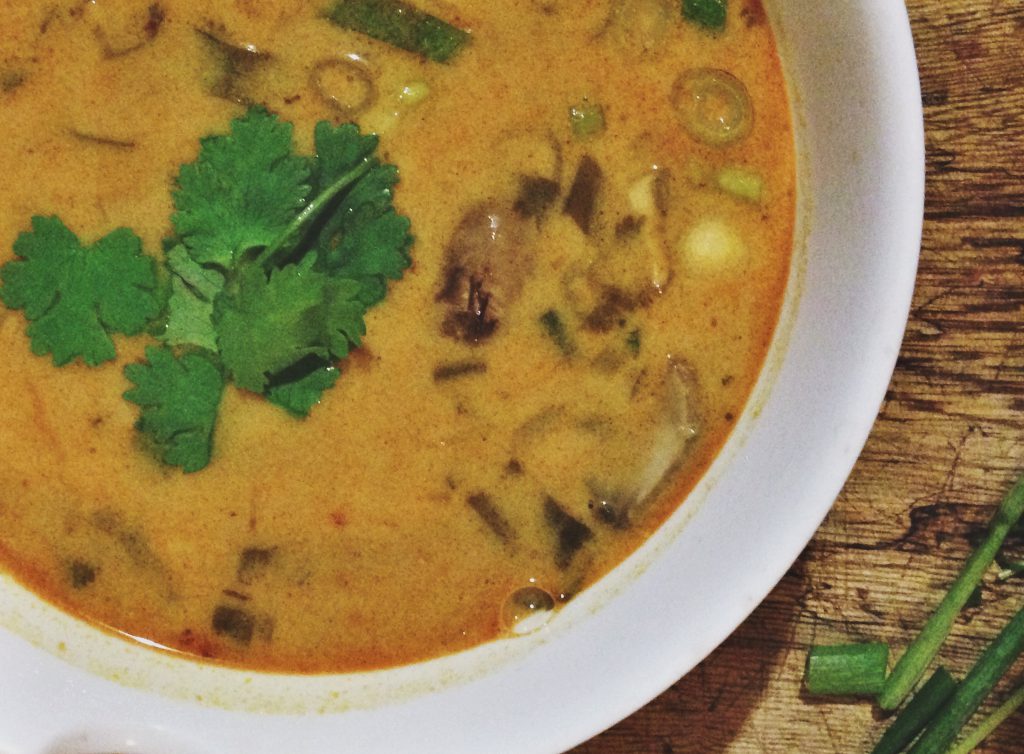 Ingredients
·       1Tbsp sesame oil
·       1Ž2 cup of spice paste (see below)
·       7 cups of water
·       3 vegetable stock cubes
·       1 cup of coconut milk
·       500 grams of chicken breast thinly sliced (or firm tofu, cut into cubes)
·       1 cup of bean sprouts
·       2 large field mushrooms
·       3 green onions chopped finely
·       2 large field mushrooms finely sliced
·       2 Tbsp coarsely chopped fresh mint
·       2 Tbsp lemon juice
·       2 Tbsp tamari
Method
1. Heat oil (moderate to high heat) in a large saucepan, then add the spice paste, stirring for 1 minute or until fragrant.
2. Add the water and stock cubes, mushrooms and bring to the boil.
3. Simmer uncovered for 5 minutes
4. coconut milk, thinly sliced chicken breast (or for a vegetarian option you could use tofu), lemon juice and tamari. Stir until hot.
5. Add bean sprouts, onion (thinly sliced) and mint. Cook for another few minutes and then remove from heat and serve. Serve with fresh coriander and chili if desired.
Spice paste
·       1 bunch of loosely packed, coarsely chopped fresh coriander
·       2 spring onion, chopped coarsely
·       2 tsp ground coriander
·       2 tsp ground cumin
·       1 tsp of grated turmeric
·       2 cloves garlic quartered
·       2 tsp sambal oelek
·       2 tsp grated fresh ginger
·       1 stalk of lemongrass, chopped coarsely
Method
Mix ingredients together in a food processor until smooth.
Note: you can make a few batches of the spice paste at once and freeze for later use.
Meat can be substituted for tofu.