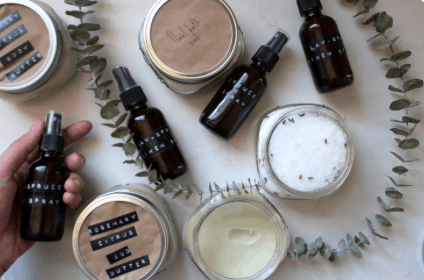 There are many different scales and degrees of anxiety and many different approaches to treatment. In terms of natural approaches, a treatment schedule of acupuncture, herbs, massage and lifestyle changes can be hugely beneficial in reducing the severity of anxiety symptoms, allowing anxiety to be managed in an effective way without the side effects of chemical and drug-related treatment. Of course, sometimes, this is needed too, and we always recommend talking to a Health Professional before embarking on any treatment course to find out what is right for you.
However, adding essential oils to your healing plan can be a wonderful way to choose different habits and use natural products in your home to reduce anxiety on a daily basis. Wonderful ways to use oils include diffusing them, making perfumes to apply to your skin each day, in the bath, and even in linen sprays to apply to your pillow and pyjamas each night. Some oils are also safe to injest, and adding some drops to teas and other drinks can be another great way to benefit from their therapeutic effects.
We will get to how to make some homemade products shortly, but first off, here are our top 7 oils to use for anxiety and stress. It's best to make sure you use pure essential oils, meaning oils that have not been diluted with chemicals or additives. Anxiety is a tough battle to face day in and day out, which makes having a natural solution, such as an essential oil blend, important.
1. Lavender
Considered the most common essential oil, lavender oil benefits include having a calming, relaxing effect. It's considered a nervous system restorative and helps with inner peace, sleep, restlessness, irritability, panic attacks, nervous stomach and general nervous tension.
"The Handbook of Essential Oils: Science, Technology, and Applications, Second Edition" states that there have been a number of clinical trials involving the inhalation of lavender essential oil that indicate a reduction in stress and anxiety. One study using oral lavender essential oil via capsules found that heart rate variation significantly increased compared to the placebo while watching an anxiety-provoking film. This suggested that lavender had anxiolytic effects.
2. Roman Chamomile
A peaceful, calming scent, chamomile decreases irritability, overthinking, anxiety and worry. An explorative study conducted at the University of Pennsylvania School of Medicine on the antidepressant activity in chamomile found that this essential oil "may provide clinically meaningful antidepressant activity that occurs in addition to its previously observed anxiolytic activity."
Another study published by the National Center for Complementary and Integrative Health found that chamomile capsules have been shown to ease anxiety symptoms. Chamomile oil is generally safe, except for a some small risk of allergy, especially with anyone who has an allergy to ragweed.
3. Bergamot
Bergamot has a beautiful, distinctive floral taste and aroma. Bergamot oil is calming and often used to treat depression by boosting mood and energy; however, it can also help with anxiety and insomnia; inducing relaxation and reducing agitation.
It's been proven to reduce corticosterone response to stress in rats, and another interesting study conducted in 2011 hypothesizes that applying blended essential oil that includes bergamot to participants helps in treating depression or anxiety. The blended essential oil consisted of lavender and bergamot oils.
4. Frankincense
Frankincense is great for supporting depression and anxiety because it provides a calming and tranquil energy as well as spiritual grounding. In aromatherapy, it helps deepen meditation and quiet the mind.
Mixed with bergamot and lavender oils in a 1:1 ratio in an aroma hand massage, frankincense was found to have a positive effect on pain and depression in hospice patients with terminal cancer in a Keimyung University study in Korea.
5. Rose
One of the benefits of rose essential oil is it's very settling to the emotional heart and perhaps the second most popular after lavender for relieving anxiety and depression, helping with panic attacks, grieving and shock. In study of women who were pregnant for the first time published in the Iranian Red Crescent Medical Journal, one group of women was received a 10-minute inhalation and footbath with oil rose, another group received a 10-minute warm-water footbath, and they were compared to a control group. The findings showed "aromatherapy and footbath reduces anxiety in active phase in nulliparous women."
6. Vetiver
Vetiver oil has a tranquil, grounding and reassuring energy, often used in trauma helping with self-awareness, calmness and stabilization. A nervous system tonic, it decreases jitteriness and hypersensitivity and is also useful in panic attacks and shock. A study published in Natural Product Research examining the anxiety-like behavior in rats concluded that vetiver oil may be useful in lowering anxiety effects.
7. Ylang Ylang
This popular essential oil can reduce anxiety and depression due to its calming and uplifting effects. Ylang ylang helps with cheerfulness, courage, optimism and soothes fearfulness. It may calm heart agitation and nervous palpitations and is a moderately strong sedative, which can help with insomnia.
In a 2006 study conducted by Geochang Provincial College in Korea, using ylang ylang oil, along with bergamot and lavender oils, once a day for four weeks reduced "psychological stress responses and serum cortisol levels, as well as the blood pressure of clients with essential hypertension."
Be careful when using ylang ylang, as it can be sensitizing or irritating to the skin; avoid using in conditions of low blood pressure.
HOW TO USE ESSENTIAL OILS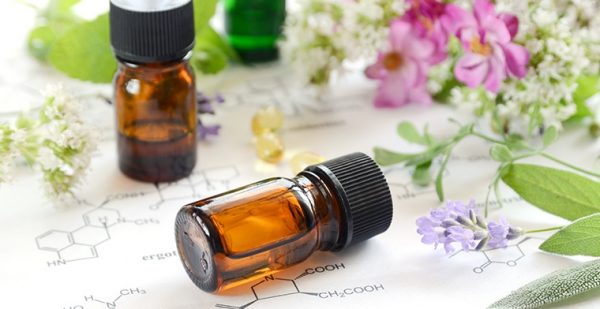 Choose one oil or a combination for your own blend and diffuse 5-10 drops in an oil burner. Electric ones are best.
Topical application using a carrier oil: When the oils touch the skin, they are absorbed rapidly into the bloodstream. Since they are so potent, it is important to dilute and blend with a carrier oil, such as sweet almond, jojoba, olive, avocado or coconut oil. Again, choose the oil or oils from the 7 listed above, add up to 12 drops into a 30ml carrier oil ratio, adjusting more or less depending on how much carrier oil you use. You can apply the blend to the bottoms of the feet, rims and behind/around the ears, on wrists, or through massage on main body parts. For example, add 30ml of jojoba oil to a glass amber roller bottle, and you might want to add 6 drops of lavender, 3 drops of roman chamomile and 3 drops of frankincense for your particular anti-anxiety blend.
As an aroma/linen spray using distilled water: Add a small pinch of fine sea salt to a small amber spray bottle.  The essential oil needs something to hug and bind to, thus the salt.  Then add twenty drops of your chosen oils from the list to the bottle, swirl that around so the oil and salt marry.  Fill the rest with distilled water and shake. Spray on your pillow or pyjamas before bed, or use it as a perfume spray on yourself throughout the day.
Home Tips:
As always, self-care is hugely important when working to treat anxiety. Saying no to people and activities when you feel too stretched and hyped up is an important habit to foster. Eating wholesome foods and at regular intervals while avoiding a huge amount of stimulants like sugar and caffeine is another grounding, nourishing habit. Reducing general stimulation and distraction in life also helps minimise anxiety: choose television free days and weeks, switch off noise, read more books, go for more walks, take drives to the country, do whatever organisation you need so the things which trigger stress for you are reduced. Stress and burn-out lead very quickly to feelings and symptoms of anxiety, and can slowly be remedied when appropriate health treatments are chosen, and self-care becomes a priority in life. Baths, Sunday naps, nights in, saying no, a monthly massage: these are all ways to reduce hype and burn-out, balance feelings of anxiety and create more calm, connection and groundedness in our lives.