This dairy-free and gluten-free banana and berry soft-serve will cool you down while also boosting your health! A great "ice cream" alternative.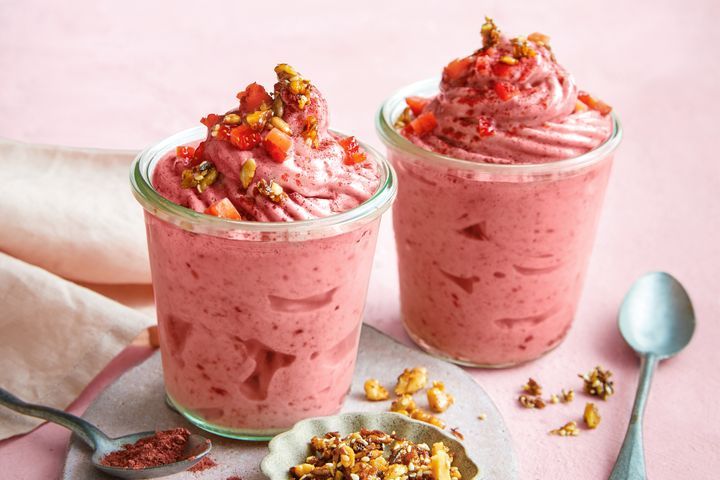 Ingredients
3 bananas, peeled

250g strawberries, hulled, plus extra, finely chopped, to serve (optional)

30g (1/4 cup) chopped walnuts

30g (1/4 cup) coconut milk powder

1 tsp beetroot latte powder
Method
1. Roughly break
bananas
into pieces and transfer to a sealable plastic bag. Roughly chop
strawberry
 and transfer to another bag (or place both on a tray lined with baking paper for faster freezing). Place both bags in the freezer for 4-5 hours or until frozen solid.
2. Meanwhile, place a large bowl in the fridge to chill. Combine 
sugar
 and 
oil
 in a small non-stick frying pan over a medium heat. Add 
walnuts
, 
sunflower seeds
, 
sesame seeds
 and 
shredded coconut
. Stir for 2-3 minutes or until lightly toasted and crisp. Remove from heat. Set aside to cool completely.
3. Place frozen banana and strawberry, 
milk powder
 and 
vanilla
 in a high-powered blender. Pour in 60ml (1/4 cup) cold water. Process for 30 seconds or until finely chopped. Scrape down side of blender. Add up to 60ml (1/4 cup) more cold water, if needed for smooth consistency. Process again until smooth and creamy.
4. Transfer mixture to pre-chilled bowl. Add 
acai
 and gently swirl through. (If not soft-serve consistency, place in the freezer for 30 minutes to refreeze). Scoop or use a piping bag fitted with an 1.5cm star nozzle to pipe soft serve into serving glasses. Sprinkle with 
beetroot powder
. Scatter over walnut mixture and extra strawberry, if using.
Enjoy!