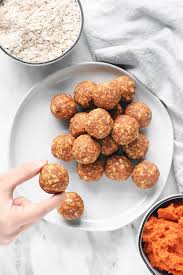 These snack balls are great immunity boosters because they contain reishi mushrooms, which are known to help support immunity, and ginger, which contains anti-inflammatory and antioxidant properties.
Perfect post-workout, in the morning with tea, or any time the craving strikes, you'll love how delicious and simple these energy bites are to make.
Ingredients:
1/2 cup pumpkin puree (preferrably home made)
1/2 cup almond flour
2 tblps coconut oil, melted
1/4 cup raw cashews
2 pitted dates
1/4 cup pumpkin seeds (pepitas)
1 tblsp ground flax seeds
2 tsp chia seeds
1 tblsp hemp seeds
1 tsp freshly grated ginger
2 tsp allspice
2 tsp reishi mushroom powder
pinch of sea salt
Method:
1. Place the dates in a small bowl with warm water. Let soak for a few minutes and remove the pits.
2. In the bowl of a food processor combine all of the ingredients (including the soaked dates) except for the melted coconut oil.
3. Pulse together for a 30 seconds and then add the melted coconut oil. Continue to pulse until the mixture is chunky but smooth. You shouldn't see any big date pieces.
4. Use a mini cookie scoop or your hands to portion out the bites onto a plate. Enjoy right away or refrigerate first for 30 minutes.
5. Store in an airtight container in the fridge for up to a week. You can also store them in the freezer and pull them out when you want one as a snack!